A Used Jeeps for sale in Fort Collins, Cheyenne, and Canon City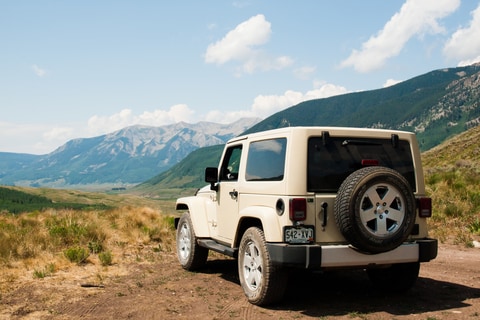 People around Fort Collins, Cheyenne, Canon City and other regional areas often have a need for powerful off-road vehicles. Jeep has long been a popular name in the world of off-road vehicles thanks to the unique innovations and sturdy models that the company makes.
Jeep has been trusted by people for generations. From the public to the military, Jeep is synonymous with power and quality. You can an incredible selection of used Jeep models at
DealinDougAutos.com
.
The great part of finding a used Jeep in Fort Collins, Canon City or Cheyenne is that the vehicles available for your use include many choices that can last for years. You might even find some older Jeep vehicles that can become collectors items. Simply put, Jeep makes vehicles that will last for a while and will not quit on you.
Used Jeep Cherokee
One of the more popular models that Jeep has to offer is the Cherokee. The Cherokee is an SUV model that is popular for its distinctly crafted exterior and its powerful engines. You can find many turbocharged engines for the Cherokee that will help you keep moving forward.
The cargo support offered by the Cherokee helps you to keep moving while storing or towing more items. You can fold down the back seats in your vehicle to get a flat space for storing more items. The towing or payload capacity in your Cherokee will vary based on the trim and engine, but you can expect to bring thousands of pounds of weight with you wherever you go.
Jeep particularly makes many versions of the
used Jeep Cherokee
. The Trailhawk is a high-end version of the Cherokee that offers a more distinct appearance and includes Trail Rated 4x4 support for all your off-road needs. The heavy-duty engine cooling feature also helps you to keep your engine's operating temperature in check so you will keep on traveling well and light. A power liftgate and a dual-zone climate control system can also be found here.
Used Jeep Grand Cherokee
The Grand Cherokee vehicle from Jeep is a little larger in size and offers many features that add to the functionality of the car. You can find features in the Grand Cherokee like larger wheels with some 20-inch options available for your use. A V8 engine can also be found in select models.
Used Jeep Wrangler
The Wrangler has made a name for itself as one of the most iconic off-road vehicles in the world. You can get your very own Wrangler on the used market today.
The Wrangler is a compact four-wheel drive vehicle suitable for many off-road conditions. Available with a convertible top, the
used Jeep Wrangler
is a sturdy model that comes with large wheels, including 18 and 20-inch variants that can move around many tough surfaces. The direct-injection turbo engine offered in select models helps you to move around even the toughest uphill surfaces. Seeing how hilly the Fort Collins and Cheyenne areas are, it helps to see how well the Wrangler can work for all your transport needs.
Other Used Jeep Models
Don't forget about the many other models that Jeep has to offer. You can find used versions of the Renegade, a compact SUV model. The Compass, a crossover model, is another choice that you can use as well. These are all models with many outstanding and attractive features that will help you with getting around the roads of Fort Collins and other surrounding areas with ease.
The great part of all these Jeep vehicles is that they are suitable for off-roading and for street situations alike. You can trust these vehicles to stay safe on the icy roads and rough conditions that you might experience as the winter season comes to Colorado and Wyoming. These vehicles are all appealing for handling the thin air that the region is known for.
Jeep is a prominent name in the world of off-road vehicles. Take a look at how you can get a quality used Jeep vehicle to work for you as you aim to get a car that is effective and useful for your off-road or work needs. You will find many choices of used Jeeps that you are bound to love when looking for an effective vehicle in Canon City, Cheyenne, or Fort Collins at Dealin' Doug Autos.