Used Jeep Cherokee For Sale in Colorado or Wyoming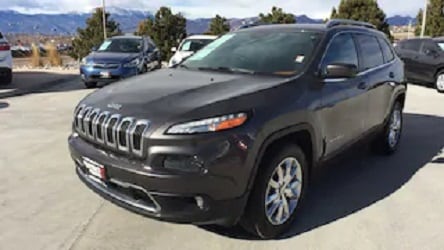 The
Jeep Cherokee
is one of the most trustworthy off-road vehicles that you can find around Cheyenne, Colorado Springs, and other surrounding spaces in the Rocky Mountains. You can find many used Jeep Cherokee models for sale around Fort Collins and other surrounding areas when you reach us at Dealin' Doug Autos for help.
The Jeep Cherokee has made a reputation for itself as one of the most powerful SUV models around. You can ask us for help with finding something that fits your needs. With so many Cherokee models to choose from, you'll need a trustworthy team who can help you with finding a model that you will appreciate.
Iconic Jeep Cherokee
The Jeep Cherokee has been in production since 1974. The model is designed mainly as a lightweight compact SUV vehicle. The layout of the Cherokee has changed over the years, but the quality of the Cherokee remains the same.
The unique point about the Cherokee is that it offers a better fuel economy than many other SUV models on the road. Much of this is thanks to the quality I4 and V6 engine models available for your use. You can find some I4 diesel engines in the Multijet line as well as larger Pentastar engines for advanced towing or payload needs.
You can find many Cherokee vehicles in different lines too. These include quality models like the Limited, a high-end version of the vehicle that offers a convenient automatic transmission for your control needs. Meanwhile, the Sport adds a powerful engine and more steering choices.
You can also get a Cherokee with large wheels that will help you navigate through many of the tough weather conditions around the Colorado Springs and Cheyenne areas. Many models are available with 18, 19, and even 20-inch wheels. These include fancy alloy wheels that add a distinct look that you deserve to have at your space.
Don't forget about the various transmission operations available for your use. These include four, five, and six-speed manual and automatic transmission models. Some of these transmissions have been designed by Mercedes-Benz and have been licensed for use by Dodge to provide a seamless shifting experience all the way through. This is an attractive part of the vehicle that adds a good touch for your driving experience.
Jeep Cherokee Experts
The variety of
Jeep Cherokee models
out there for people in Cheyenne and Colorado Springs to find can be complicated and often tough for people to figure out. But you can trust our experts at Dealin' Doug Autos to help you with finding a quality Cherokee for your use.
What do you plan on using your Cherokee for? What special features do you want out your vehicle? How powerful of an engine do you need? You can ask us at Dealin' Doug Autos for help with all of these questions and many more. Our experts will help you figure out the right type of vehicle that might work for you.
You will also find details on great financing services when you reach us at Dealin' Doug Autos for help. We offer quality financing solutions for your needs regardless of your credit history.
Don't forget that our vehicles are all certified and designed to work well for your use. We offer unique vehicles that feature everything you've always wanted out of a quality unit. You can also ask us for a thorough Carfax report to identify what you can get out of one of these vehicles. We concentrate on ensuring you've got something that you will love driving.
We will never push you through any stresses when finding a vehicle either. We'll ensure that you only choose a Cherokee model that you can trust. After all, we don't like it when people have to be forced into buying certain things just because.
You can ask us at Dealin' Doug Autos for help with finding
the best Jeep Cherokee models around
. We have only the finest vehicles for sale here at Dealin' Doug's, including some appealing choices that you will enjoy trusting for all your transport needs. Get in touch with us today here at Dealin' Doug's to find something that works for your travel demands.