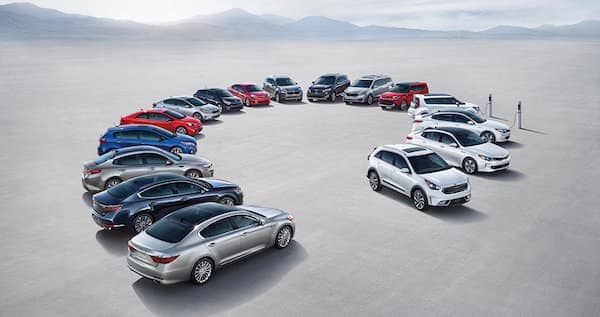 Used Kia From Denver to Aurora
Kia has become one of the hottest names in the vehicle world. The Korean company has been producing quality vehicles since 1944. You can find many appealing used Kia vehicles for use around Denver, Thornton, Centennial, Aurora, and other surrounding areas. These Kia cars provide you with many quality features that you will appreciate as you look for a quality car for your daily needs.
The interesting thing about what Kia offers is that the company has only been in the United States since the 1990s. Kia has only recently begun to showcase to the rest of the world what people around Asia already know about. With so many people trusting Kia vehicles in recent time, it is no surprise that you will find some like new used Kia models considering the large selection at Dealin' Doug Autos.
Used Kia Car Models
You can start your search for a used Kia in Denver by looking at the
used Kia Optima
. The Optima is a popular mid-size car that offers a turbocharged four-cylinder engine in select models. The vehicle offers various transmission options, including a convenience six-speed manual transmission that helps you to keep moving forward.
The
used Kia Soul
is another useful choice to see. The Soul offers a distinct physical body, but what makes the Soul useful is that you can find it in many forms. You can find this with a diesel or gas-powered engine and with some attractive physical color features on its body. You can get suede-covered seats on some models as well. 
Used Kia SUVs and Vans
You can also take advantage of one of the many larger models that Kia has to offer on today's market. The Sorento is one of the most noticeable SUV models that you will find around Centennial and other cities around Denver. Available in diesel and gas-powered models, the Sorento is available with an all-wheel drive option for automatic transmission use. You can also get one of these vehicles in a five or seven-seat layout, thus ensuring you will have enough room for all the people you wish to transport.
The Sportage is a compact crossover model that remains one of Kia's longest-running models. The company has been producing the Sportage since 1993. The newest version of the Sportage can be found on the used market today. This includes a new version that features a smooth detailing layout that is reminiscent of a fighter jet. Take advantage of features like a turbocharged engine and leather seating among other popular features. The engines offered work in the same way with the same output regardless of whether you use a front or all-wheel drive option.
The Kia Sedona as crossovers emerge as today's preferred form of family-hauler, the Kia Sedona is one of only a handful sticking to the minivan format we grew up with. 
Buyers can choose between five trim levels (ranging from L to SXL) with increasing levels of luxury and either seven or eight seats. Top trim levels come with electric (instead of hydraulic) power steering mechanisms, but they all come with the same powertrain combination that pairs a 3.3-liter V-6 to a six-speed automatic transmission.
The SUVs offered by Kia are all models that make it easy for you to get out on the road and enjoy the scenery. From great off-road support to powerful engines, you can trust these Kia models to your benefit while being convenient and easy for you to utilize as you see fit.
Used Kia Hybrids
The Optima and Soul are being produced by Kia with hybrid options. These are useful for people around Denver when you consider how tough it can be to get enough gasoline for all those uphill drives. Hybrid models come with useful electric motors that are paired with helpful four-cylinder engines that work to your liking. The design ensures that you will get a good drive going no matter where you might want to head out to.
But while many of these hybrids only work for a brief moment of time, you will find that it is not hard for you to get any one of these models to work for your benefit. You should see what makes a hybrid from Kia so interesting as you look for a quality vehicle that is effective and useful for your driving desires and demands.
All of these choices for a Kia vehicle are good options for you to look for when finding a top-quality used vehicle. See how well these options from Kia will help you with getting around the Denver area. The best part of these used Kia vehicles is that you can find excellent deals on all of them at Dealin' Doug Autos
Check Them Out
!