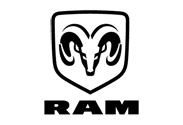 New Ram reviews and details Colorado Springs Littleton Denver Pueblo Canon City Longmont Loveland Fort Collins Cheyenne.  Everyone knows a Ram truck when they see it on the road, with its iconic styling and unique front end.  Especially lately as Ram sales have grown dramatically.  It's been over 5 years since Ram split off from Dodge, in October 2009, and sales of the Ram line of trucks has continued to soar.  Boasting Motor Trend's Truck of the Year in 2013 and 2014 doesn't hurt either.  Ram trucks have been around for a long time and have long been loved by those who ever owned one.  They have continued to grow in popularity, respect and accolades over the past few years.  Test driving one merely become a formality before signing on the dotted line as many people love the incredibly smooth ride and the luxurious interior that Ram offers.  
In the 90's Dodge went with some retro styling which gives their line of trucks a beefier look as well as a little hint of big-rig touches.  When Ram was split from Dodge in 2009, it allowed for the creators of Dodge cars to focus more on those aspects and allows the creators of Ram trucks to focus entirely on those.  Since the split, Ram trucks has continued to grow in sales, upwards of 20% per year, and even beat out other truck manufacturers in March 2014 to take second place for most trucks sold, for the first time since August of 1999.  So take a minute and see what else people all over are saying about Ram.  And read our
New Ram reviews and details for
Colorado Springs Littleton 
Denver Pueblo Canon City Longmont Loveland Fort Collins Cheyenne by clicking on the links below.
To view Dealin' Doug's new Ram Inventory click here!