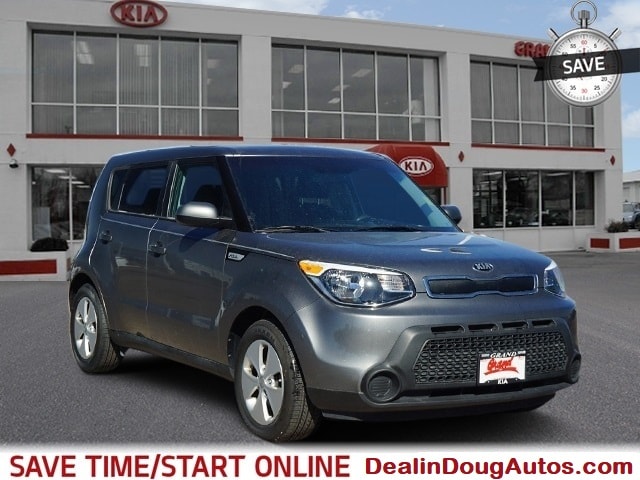 Used Kia Soul Sale In Denver or Aurora Today!
Kia has developed the Soul as an outstanding SUV that you will love to drive around Denver, Centennial, and other areas around the region. Our team at Dealin' Doug Autos wants to help you find a useful pre-owned Kia Soul out there for your use.
The Soul has become a hit among SUV fans thanks to its modern design. But the great thing about the Kia Soul in Aurora or Denver among other places is that the vehicle can be affordable for you to check when you review our extensive pre-owned variety of vehicles here at Dealin' Doug Autos.
What Makes the Kia Soul Exciting?
The Soul has been a big selling throughout the world, with the vehicle on average selling about 120,000 or so units a year in the United States and another 10,000 units in Canada. But what is it about the Kia Soul that makes it appealing?
The Soul offers one of many powerful engines, including an I4 petrol engine or a diesel fuel engine. You can also get a six-speed automatic or manual transmission for your vehicle or a seven-speed dual-clutch transmission or DCT. The DCT works with added controls to help move between gears, thus creating a smooth ride while also offering enough control depending on the vehicle you're going to work with.
The safety rating for the Kia Soul is among the best in the industry. The vehicle has received outstanding ratings for its roof strength, restraint systems, and frontal offset features. The design of the vehicle provides a firm body that resists many impact and does well with moving along to prevent impacts from occurring.
An Intriguing Kia Soul Body
The physical layout of the Kia Soul is something that makes the vehicle very interesting for all to note. You can check out the Kia Soul for its distinct rectangular design featuring a series of modern curves around the top. The distinct colored roof design is something to notice as well. You have many options to work with when finding something of value, so check around to see what might work for your travel needs.
It is no wonder why Kia has gone as far as to include some giant anthropomorphic hamsters to promote the vehicle in its commercials. The Soul has an outstanding style of its own that anyone would love to check out and be seen driving.
Check Out the Used Kia Soul Models We Offer
The number of used Kia Soul models available in Centennial, Thornton, and elsewhere will increase over time. This comes as the third generation of the Soul is expected to be released in 2020. With that in mind, you can find various used Soul models here at Dealin' Doug Autos.
Our selection of Kia Soul models include several choices with outstanding values, many of which are around half the value of a new vehicle. Our certification standards also ensure that you'll have a powerful vehicle on hand that will not be hard to control or utilize. We also provide full Carfax reports on each of these to help you see what a car has been like and that the vehicle itself is safe to utilize.
You don't have to worry about whether or not you can afford a vehicle either. You can contact us at Dealin' Doug Autos for help with finding appealing vehicles that you can afford. We provide great deals while also offering useful financing solutions. Our financing team will help you find an appealing deal that adds a good value to the quality of your Soul. The best part of our service is that we will ensure that you will find a great value for your vehicle that adds a distinct touch to whatever you might be interested in the most.
You can reach us at Dealin' Doug Autos today if you're looking for a used Kia Soul in Denver, Aurora, or any other city that you need a new vehicle in. We would love to assist you with finding an appealing vehicle that you would be interested in, including a quality used Kia Soul model. You are going to enjoy driving around the Denver area in your used Kia Soul, thanks to the great deal you will get on a quality used model.