Used Jeep Wrangler For Sale In Colorado or Wyoming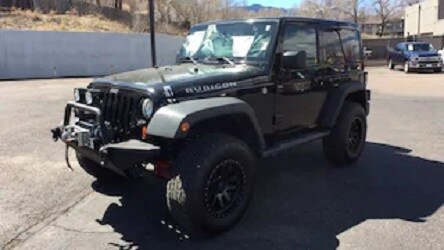 The
Jeep Wrangler
has made a name for itself as one of the most iconic vehicles in the world. The Wrangler is considered to be the natural progression of the World War II Jeep from Willys, not to mention the Civilian Jeeps that were produced not long after that. You will love the quality of one of these intriguing vehicles for your needs.
The Wrangler is an important vehicle in the history of automobiles. It is no surprise that so many people around the world are interested in Jeep Wrangler vehicles to this day. Best of all, you can find an extended variety of quality used models for sale in Fort Collins or Cheyenne through us at Dealin' Doug Autos.
Jeep Wrangler Features
The Jeep Wrangler is designed as a quality two-door small SUV model. The layout comes with the distinct Jeep grille on the front and can work as a convertible model depending on what you choose. The space for the spare tire on the back part adds to the nice touch.
The Wrangler is available in many forms, including ones that offer four or six-cylinder engines. A six or eight-speed manual or automatic transmission can work for your needs as well. The body-on-frame design of the Wrangler's body adds a good touch as well.
Jeep Wrangler Many Forms
The Jeep Wrangler has become popular over the years for how the vehicle comes in many forms. You can find the Wrangler in various layouts, including in a longer four-door variant. The four-door option is also known as the Wrangler Unlimited. The design offers a longer body that allows for more storage and for the support of a permanent second row, not to mention seats that can fold back all the way. Convertible features are included on many of these Wranglers as well, with the back part offering room for a removable cover.
You can also find the Wrangler in various trim levels. These include the Sahara, a luxury-based level that features large 18-inch aluminum wheels and quality cloth seating surfaces. You can also find many models in the Sahara line that offer four wheel drive functionality.
Meanwhile, the Rubicon series has made a name for itself as the high-performance option. The design focuses on stronger off-road functionality with a greater approach angle to allow the Wrangler to climb over even the toughest off-road surfaces. With so many people around Canon City and Cheyenne looking for unique vehicles that are a little stronger in quality, it is no surprise that so many people are looking for vehicles like the Wrangler.
Dealin Doug Jeep Wrangler Deals
One of the most exciting things about the Jeep Wrangler is that the vehicle can last for years to come. You will find plenty of Wrangler models out there that date back to 2000, for instance. Best of all, you can find quality deals on many of these used Wrangler models at Dealin' Doug Autos.
Our team at Dealin' Doug Autos will help you to find various Wrangler vehicles for sale, including the Wrangler JK and four-door Unlimited models. You can check out all the details on each vehicle at our locations. We also offer free Carfax reports to help you identify the general history of your vehicle.
Each vehicle you find is supported by a full financing service. You can reach us today to learn more about how you can manage your financing needs. Our team will particularly assist you with finding a deal based on what you can afford. You'll find that you can get a quality used Wrangler from us even if you don't have much credit to work with.
Also, we ensure that our vehicles are fully certified. We work with extensive review processes to ensure that each vehicle we take in is functional and ready for use around the roads of Canon City or Colorado Springs. After all, you should not feel at risk of possibly having your car not work as well as it should.
You can reach us at Dealin' Doug Autos today if you need help with finding a
used Jeep Wrangler for sale
in Colorado Springs or Fort Collins among other places. We offer outstanding used models for sale today.