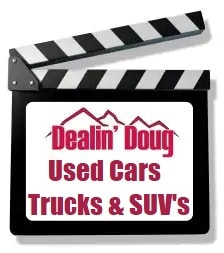 Used Cars, Trucks and SUV Colorado and Wyoming 
If you need a new car, but you don't have the money for it. Well, you don't have to worry because there's a way how you can get a like new car, truck or SUV even if funds are limited or credit is not perfect. You can find a great used car, truck, or SUV from Dealin' Doug and save big.
Regardless of how much money you are able to borrow, you will find that your purchasing power will go a long way as you find a used car through Dealin' Doug. Used cars, trucks and SUV's cost less than newer models. In fact, there is often a gap of nearly $10,000 between the value of a new car and a used car on today's market. The risk of depreciation is also dramatically reduced with these vehicles, thus providing you with better deals all the way through.
Used vehicles are perfect for how they provide you with the what you need for getting a vehicle without financial struggles. Best of all, Dealin' Doug Autos offers a huge selection of used cars, trucks and SUV's so you will find exactly what you need at a price that fits your budget.
Dealin' Doug offers great used cars for all people around the region. You can visit one of many Dealin' Doug locations around Colorado or Wyoming. If you live in Denver, Littleton, Canon City, Pueblo, Colorado Springs, Fort Collins, and Cheyenne there is a Dealin' Doug Dealership near you.
You will find every type of used cars, trucks and SUV's imaginable for when you're aiming to get the most vehicle for your money. These include various pre-owned vehicles that have been fully inspected and certified to ensure that you will get a vehicle that works properly for your demands.
You can find many types of cars from all the top companies. You can get cars from Chrysler, Dodge, Ram, Kia, Jeep, Mitsubishi, and many other prominent manufacturers.
An important point to see that many vehicles offered by Dealin' Doug entails the Certified Advantage. You can rest assured when finding a vehicle that it is easy for you to get a great used car without risk.
Dealin' Doug offers Certified Advantage coverage for up to three years after the vehicle is purchased or until the car reaches 100,000 miles. The coverage program includes a powertrain limited warranty and one year of roadside assistance, thus providing you with the peace of mind you need for getting your vehicle maintained and ready to work.
The Certified Advantage also provides you with a rental allowance of $35 per day for up to ten days in the event your vehicle needs repairs or maintenance. A $75 towing reimbursement feature and a trip interruption reimbursement of $75 per day for up to $375 per occurrence is also included.
The Certified Advantage works for all vehicles with up to 75,000 miles and for cars within five years of the current model year. Any used vehicle that is mechanically sound and does not have any known defects will also qualify for the program. This all comes with a $100 warranty deductible. Talk with the Dealin' Doug sales team to learn more about how the Certified Advantage ensures that the risk associated with buying and using a used vehicle will be kept under control.
The greatest concern about finding a car is that it might be difficult for you to afford one if you have poor credit. A lack of credit can be a burden because you might have to spend more on a vehicle with a higher interest rate on a loan.
But with Dealin' Doug, you don't have to worry about your lack of credit or poor credit. We will help you with finding a car loan or financing service that you can afford. We can work with your needs to help you find a valuable deal on a loan that is not hard to afford. You can talk with us about getting a loan based on what you can afford to spend on a vehicle. We will proudly assist you with finding the right financial solution that fits your needs.
Be sure to see what we have to offer as you look for a used car that you can afford. You can trust us at Dealin' Doug to help you with finding the right deal on a vehicle that is suitable for the general needs you might have. Best of all, you will find that it is not hard for you to afford a vehicle that suits your needs when you talk with us for help.