2018 Kia Sorento Review Denver Aurora
The excitement of the 2018 Kia Sorento is something for people in Denver and Aurora among other local areas to spot. The Sorento is a dynamic mid-size SUV that will provide you with a great ride no matter where you want to go.
2018 Kia Sorento Exterior
The outside of the Sorento offers a sleek look that features swept-back headlights and chrome details. The rear spoiler offers a distinct look that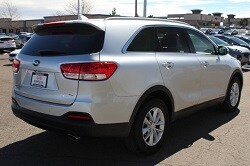 stands out among other cars around Thornton and Centennial. The rear view mirrors on the sides of the vehicle can even retract inward to create a more streamlined look when the vehicle is not in use. The braking and backup lights also integrate well with each other to create a single body on the back part to improve upon how safe the vehicle is and that people can see when someone is stopping.
The 17-inch wheels on the Sorento are great in their own right, but the 19-inch 10-spoke alloy wheels are even more attractive. This option offers a distinct style.
The Solar Control Glass uses a thick layout that absorbs heat and prevents it from building up inside the car during a sunny day. This produces a comfortable layout when used well.
2018 Kia Sorento Interior
The inside offers five and seven-set configurations. The second row offers a 40/20/40 folding layout that offers more versatility and support for managing different storage needs while the third row has a 50/50 layout. With about 38 cubic feet of cargo space, there is enough room available for storing many items on the inside.
A 4.3-inch touchscreen control system is used on the dashboard and can display the rear view camera. An air conditioning system is included alongside cloth seats with fabric treatments that can repeat stains and spills of all kinds.
2018 Kia Sorento Performance
Drivers will enjoy the 2.4L I4 engine or the 3.3L V6 model. Gasoline Direct Injection is utilized to allow fuel to be used appropriately. Variable valve timing is also used to analyze how well the vehicle's engine works as each piston moves forward.
The rear subframe is also built to keep vibrations from being intense. This creates a smooth ride all around Aurora and other local areas. Front wheel drive is also standard on all models although an all wheel drive system with electronic sensors to distribute power to the right wheels can be used as well. The Sorento can also tow at least 2,000 pounds, but AWD options can handle 5,000 pounds at a time.
 2018 Kia Sorento Technology
The Smart Power Liftgate feature lets the user trigger the trunk by waving over a particular sensor on the back area. This feature offers a simple design for getting the trunk open and making it work in any situation.
Other technical features here include a trip computer for gathering information on how the vehicle is being used. Bluetooth support is available within the car for linking mobile devices up to the display screen.
The Infinity 10-speaker surround sound audio system can be used in lieu of the standard six-speaker audio system. The 4.3-inch screen can also be upgraded to a larger 7-inch layout that has a dynamic look all around. The UVO eServices feature works on the screen to provide in-car connectivity based on the mobile device one has. It can work with Android Auto or Apple CarPlay functionality for managing data on a mobile device and keeping it accessible.
2018 Kia Sorento Safety
Safety comes first on the 2018 Sorento. The four-wheel anti-lock disc brakes offer full protection.
The Advanced Smart Cruise Control system is a great safety feature for people to watch for. This system works with radars to identify an appropriate  distance between the car and anything in front of it. This works accurately to ensure a better sense of control while on the road.
The Lane Departure Warning System is an option on the Sorento that uses sensors around the headlights to identify lanes on the road and to produce proper warnings when one is about to go off of them. This offers a simple layout for ensuring that the vehicle can stay in its right position.
2018 Kia Sorento Overview
The 2018 Kia Sorento is a great vehicle for people in Denver and Thornton among other areas to spot. It is a popular vehicle thanks to how this SUV offers a good layout for keeping things intact. It is also very simple and easy to use in any situation.