Used Mitsubishi Outlander SUV For Sale in Denver or Thornton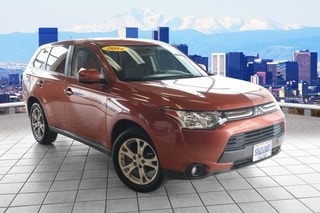 Mitsubishi has been making the Outlander compact crossover SUV since 2001 and has sold more than a million units since its launch. You can find some of these older Outlander models here at Dealin' Doug Autos.
We offer numerous attractive Outlander models
featuring many distinct qualities you will love to find out of a great vehicle for your use for many road and weather situations.
The Outlander is a small SUV model that has grown in popularity among people who are looking for sturdy vehicles that are easy to drive and yet don't make it harder for you to move around. The Outlander is a handsome model that is intriguing for all drivers to note. You will particularly appreciate how well the Outlander works when finding a vehicle with one of many engine options. The outstanding deals that we offer at Dealin' Doug Autos makes the vehicle all the more outstanding and worth noting when you're looking for a high-class vehicle that you can trust when moving around the Denver or Thornton roads.
Mitsubishi Outlander SUV Great Features
The models you will come across when looking for a used
Mitsubishi Outlander
vehicle include several that come with all the outstanding features you have come to expect out of a useful vehicle. The Outlander comes with various helpful features to give you more control over your ride along the streets of Denver or Thornton. You can take advantage of the front wheel drive feature to keep you moving along through even the toughest conditions. The alloy wheels will add a nice touch, with some wheel models being up to 19 inches in size.
You can find quality leather seats on some Outlander models. Fog lights are also available to ensure you will not struggle with trying to see things while on the road. The heated seats option also gives you a comfortable surface that is particularly useful during the coldest times of the year.
As for the engine, you will come across some appealing options for all needs. The Outlander has various engine models for you to explore, including a 2.0L I4 engine or a 3.0L V6 model. Select engines offer up to 30 miles per gallon on the highway as well. The distinct support that the vehicle offers will make for something that is suitable for all your driving needs and demands.
This is all based off of the Mitsubishi GS platform. The platform has been utilized by many vehicles in the Mitsubishi line, including the Lancer, Eclipse Cross, Xpander, and Delica among others. The platform has been so noteworthy that it has been used for many other vehicles from Dodge, Jeep, Chrysler, and the European brands Peugeot and Citroen.
Used Mitsubishi Outlander SUV In Stock!
You'll find that it is easy to find various quality used Mitsubishi Outlander models when you see what Dealin' Doug Autos has to offer. We have many quality Outlander models on sale here in Denver and Thornton.
Each of the Outlander models we offer has been thorough inspected and put through our extensive certification process. The work entails analyzing the quality of the vehicle based on the ways how it works and what the features on the inside are like. We always ensure that the vehicles we sell meet the strict standards that we require out of all vehicles for sale. We don't mess around when it comes to analyzing the quality of any vehicle we have to offer here at Dealin' Doug Autos.
You can also reach us for help with all your financing needs. We will provide you with an extensive review of your financing requirements based on the value of your vehicle and your credit history. You can talk with us about the financing effort for your vehicle regardless whether your credit is good or bad.
Talk with us at Dealin' Doug Autos today if you need assistance with making the most out of your needs with finding a Mitsubishi Outlander. We would love to get you in the Outlander of your dreams. Our extensive certification process, our outstanding deals, and the
assorted variety of Outlander models
for you to see will make your trip to Denver or Thornton for a vehicle all the more useful.