Used Mitsubishi Eclipse Cross For Sale In Denver or Thornton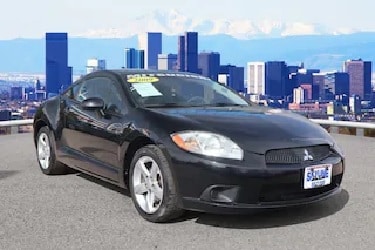 The
Mitsubishi Eclipse Cross
has become one of the top compact SUVs in recent time. The Eclipse Cross is the SUV version of the Eclipse compact sport vehicle. The newer compact SUV provides the sleek and classy features of the original Eclipse, but in a larger SUV format.
The diverse array of Mitsubishi Eclipse Cross models that you can find for sale in the Denver and Thornton areas is worth noting. You can find many used Eclipse Cross models when you reach us at Dealin' Doug Autos for help. We will assist you with finding an attractive Eclipse Cross vehicle that adds an outstanding style that you will want to use anywhere you wish to drive.
About the Mitsubishi Eclipse Cross
The
Mitsubishi Eclipse Cross
is relatively new when compared with other models from the company. The vehicle features a five-door SUV style that comes with a smooth design that is like a much larger version of what you would get out of the standard Eclipse.
The front wheel and four wheel drive options for your use are helpful for you when you're aiming to move forward and fast. The six or eight-speed manual or automatic transmission adds a good touch to your driving experience.
Select models come with an electric parking brake that deploys enough power with ease and ensures the vehicle will not slide or slip while parked. A panoramic sunroof can also be found on select used models around Denver or Thornton. You'll love how well the skies look when looking up from your vehicle.
You can also get a quality six-speaker audio system in your vehicle, although some models come with nine speakers. The nine-speaker layout is programmed by Rockford Fosgate to provide you with premium-quality sounds that are different from anything you might experience.
Used Mitsubishi Eclipse Cross Selection
You will appreciate how well our vehicles at Dealin' Doug Autos are when you're looking for something you will love. We have only the best vehicles for sale here at Dealin' Doug Autos, including various used Mitsubishi Eclipse Cross models here in Denver and Thornton.
Our team always reviews each vehicle for sale before we put it out to the public. We will analyze everything for a vehicle surrounding the quality of the unit. We will review the way how the steering functions, the quality of the seating, how well the lights are running, and so forth. The extensive review we put in ensures that you'll have a good vehicle that works for your needs. You will never need to worry about a vehicle breaking down or not working as well as it should when you reach us at Dealin' Doug Autos for help.
Our financing team will also help you with identifying what you can afford. You'll find that you can easily financing for your used Eclipse Sport regardless of your credit history. The savings you'll get out of buying a used vehicle are significant too. You can find many used models that are available for around half the value of a standard new model. The fact that your used vehicle is guaranteed to work like new ensures you'll have something that fits your life well.
We also have Carfax reports on hand to help you identify details on a vehicle's history. Most of the Eclipse Cross vehicles we have for sale here are models that have had only one owner in their histories. The great thing is that you'll ensure you are not getting a vehicle that might have worn out over time and could potentially be risky for you to drive around in. The support we offer ensures you won't have to worry about what you are getting out of your vehicle.
You can speak with us at Dealin' Doug Autos for
help with finding a used Mitsubishi Eclipse Cross
for sale in Denver or Thornton today. You will appreciate the quality models that we have to offer here at Dealin' Doug's. Talk with our sales experts here today to see what models are available and what you can find for your driving needs. You can reach us online or by phone, or you can text us today to learn more about a vehicle or to schedule an appointment to see the vehicle and review how well it works for you.