Used Dodge RAM Trucks For Sale Colorado and Wyoming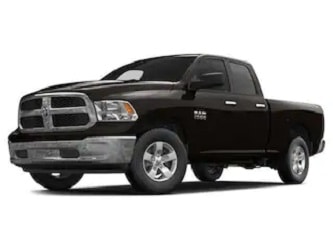 The RAM series of trucks from Fiat Chrysler has proven to be a reliable line for people around Denver, Fort Collins, Cheyenne, and other areas around the Rocky Mountains. The RAM line has been around since 1981, and the model has become so popular that the vehicle has been spun off from Dodge since 2011.
You'll come across many
used Dodge RAM models
around Denver and other surrounding areas. These include models that are several years in age, a testament to how sturdy and durable these vehicles are. Best of all, you won't spend a fortune on one of these used vehicles in Canon City or Colorado Springs among other spots in the area when you reach us at Dealin' Doug Autos for help with finding a useful model.
Time-Tested Dodge RAM
One of the most intriguing things about the Dodge RAM is that you can find many models from years in the past on the market today. The RAM truck line has been around since 1981 as a part of the Dodge family. You will find older vehicles in the line on the roads of Denver and Cheyenne today, with some vehicles from before 2000 still out on the road.
The LA engines that Dodge used throughout the 1990s and 2000s continue to run to this day. The wedge-shaped combustion chambers in the Dodge vehicle provide a firm body that will last well and produce enough energy to keep the vehicle moving. You can also find some V6, V8, and V10 versions of one of these engines.
Newer versions of the RAM include models that use 8.3L Viper V10 engines that were designed for use in the Dodge Viper sports car. Of course, you can find the HEMI engine on many high-end versions of today's RAM vehicles. The HEMI standard has become prominent in recent time for how well the vehicle style can propel a car and produce 500 or more horsepower. The HEMI engines in the like are particularly vital for when you need to transport large amounts of weight around different places.
Various RAM Models Available
The options you have to get for a
RAM truck in Cheyenne or Colorado Springs
today include many options that fit all your specific needs. You can find RAM truck models in many forms from the 1500 to the 3500 or the larger Chassis Cab. The options are divided based on the amount of torque produced by a truck. A 3500 model will be best if you're going to tow massive amounts of weight around the area. You could also use the Chassis Cab model if you need to carry a larger amount of weight in the payload segment of the vehicle.
Used Dodge RAM Trucks For Sale
Regardless of how old the RAM truck is or the amount of power that it is produced, you will find that there are plenty of appealing models for you to check out when searching through our inventory at Dealin' Doug Autos. We work our hardest to provide you with the best and most thorough selection of used vehicles here at Dealin' Doug's. We ensure that our vehicles are ready for use in many forms and aren't going to be hard to afford.
Our vehicles are particularly made in many forms, but the values are always great. You can save a significant amount of money by buying a used vehicle from us at Dealin' Doug's. More importantly, the deals we offer include values that are good for thousands of dollars less than what you would spend on something new.
The intriguing part of what we offer at Dealin' Doug is that we can help you find a vehicle regardless of your credit. We offer a full financing service that ensures you'll make the most out of your experiences.
You can reach us at Dealin' Doug Autos today if you need help with finding a useful vehicle in the Fort Collins or Denver area. We provide a full service for making it easier for you to find something distinct and attractive for your truck needs. The
Dodge RAM models
we have will surely satisfy your needs when finding something of value for your specific needs.