Used Dodge Durango For Sale In Colorado or Wyoming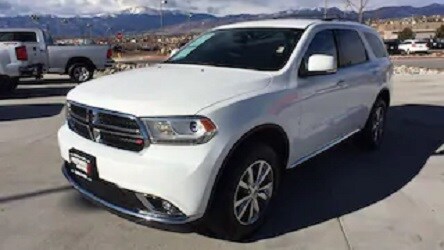 The
Dodge Durango
has become one of the most trustworthy mid-size SUVs on the market today. Much of what makes the Durango so outstanding is the unique layout of the vehicle and how well it works. But what's especially great about the Durango is that you can find a quality deal on the vehicle from us at Dealin' Doug Autos.
We've been helping people in Denver, Fort Collins, Colorado Springs, and Cheyenne among other cities with finding outstanding used Durango models. These include vehicles that are worth less than you might expect. Our services will particularly help you to find great deals on a unique vehicle you would love.
Dodge Durango A Powerful SUV
The Durango has been a staple of Dodge's off-road vehicle lineup since it was first introduced in 1997. The Durango has some similarities to the Ram pickup truck, including a unique box frame and the ability to tow massive amounts of weight at a time. The development of the HEMI engine on select models has particularly made the Durango a useful choice among those who need something helpful for their towing needs.
The three rows of seating on the inside of the Durango is a special feature to note. You can get six or seven people seated inside the Durango depending on the model you order. The extended wheelbase ensures you'll have more than enough room for all the people that you need to transport to places.
What's also interesting about the Durango is that you can find it in one of many models, including the base Express model, the extended Crew version, and the luxury-based Citadel version. The options that Dodge makes are diverse and work for every particular need that one might have when driving around Canon City and other surrounding areas.
You can expect the Durango to last for years to come, just like what you would get out of many other off-road Dodge vehicles. Many older Durango models from closer to 2000 can still be found on the road today. The sturdy engines and powerful frames of these vehicles make them outstanding models that are attractive for your needs when traveling around many places in Denver or other surrounding spaces in the Rocky Mountains.
See What Dodge Durango Deals We Offer
The options you have to work with when finding an appealing Dodge Durango for your needs. You will love us for how we offer a full variety of useful vehicles in the Durango line. You can search through our extensive array of vehicles in the Durango line to find something that fits your driving or towing needs and your budget alike. You will find some appealing deals with many of them being good for half the value of a larger vehicle when considered.
The good news about our services is that we will help you with finding a vehicle at Dealin' Doug Autos that will be easy for you to afford. You can find some vehicles through our financing services as well. We provide great deals for your use, but you don't have to worry about your credit when contacting us for help. We will help you find a good value regardless of your credit history. The best part of what we offer is that we always have a thorough service on hand for your needs when finding out what's affordable for you.
Each of the used Durango models we offer will be certified to work for your needs as well. We provide full inspection of each vehicle that we get so we will only sell the best-quality models that fit your use. We will also provide you with a full Carfax report on each vehicle we have to offer. You'll find many options that have only one prior owner, thus ensuring you'll come across a vehicle that is fully functional and won't be hard for you to utilize around the road.
Ask us at Dealin' Doug Autos for help with finding an appealing
used Dodge Durango
today. We will help you with finding an appealing model that you will love to drive all around the Denver or Cheyenne area among other places. Our outstanding services will make a real difference when you reach us for help.